Gymnasium Acoustic Panels
The gymnasium acoustic panel has a variety of colors, which can be suitable for any decoration. The large sound absorbing panels are suitable for wall and ceiling installation. Our auditorium acoustic panels have the compact characteristics of high and medium-density panels, and can achieve high NRC (noise reduction coefficient) ratings in thin panels, thereby providing acoustic performance that other traditional products cannot match.
The acoustic treatment for large rooms panel has brought an environmentally friendly alternative and has become a new environmentally friendly product with excellent performance. Using fiberglass wool and fiberglass fabric through the most advanced needle punching and thermal bonding technology, it has excellent acoustic performance, fire rating, moisture resistance and lifetime durability.
Gymnasium Acoustic Panels Specifications
Size: 600x1200mm, 1800x600mm, etc.
Thickness: 50mm, 100mm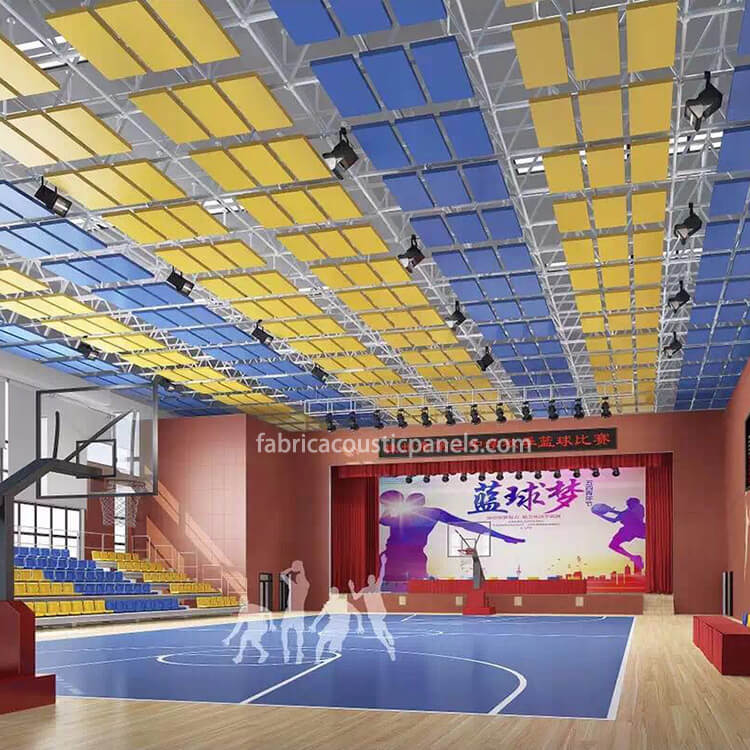 The acoustic panels for gymnasium are available in 25mm and 50mm thicknesses, providing complete design flexibility and acoustic performance levels, respectively NRC 0.70 and NRC 0.97. In this 125 Hz-500 Hz range, the gradual absorption curve created in the sound field really shines. This is the critical frequency range of all human voices. It is the "mid-range" of the mid-range. This is the frequency range in which all our emotional connection with music lies. This is the frequency range that 25mm fabric church acoustic panels cannot reach. The fabric sound absorbing panels provide very little absorption in this frequency range of 125 Hz. – 250 Hz. Absorbing sound energy is essentially destroying it by changing it to another form of energy, which is the final result of the friction generated by heating the sound energy.
Light weight
The gymnasium acoustic panels and fabric ceiling panels are lightweight, have high and medium density, semi-rigid, impact resistance, and are very durable.
Large Sound Absorbing Panels Finish
A variety of acoustic cloth can meet any design requirements, fine interior decoration and decorative solutions.
Application field
The acoustic panel for gymnasium is a solution for controlling environmental reverberation noise and sound transmission. It is used for:
Entertainment
Educational large room acoustic treatment
Gym acoustic materials
Office/commercial space
Music recording and broadcasting studio
Auditorium, cinema and theater
Meeting and meeting area
Entertainment venues and fitness venues
Multimedia presentation environment
Every area where houses and sound are important