Hanging Acoustical Panels
Hanging acoustical panels have extremely high aesthetics and have been generally customized. The acoustic hanging panels provide an elegant and economical sound absorption solution. The hanging clouds acoustic panels offer various sizes and shapes in different colors. The hanging acoustical panels provide ideal results for noise control and are impressively decorative, allowing them to adapt to any feasible environment.
The hanging acoustic ceiling panels are covered with a sound-permeable and highly decorative fabric that can realize a variety of colors and textures. The fabrics used have various textures. The hanging ceiling acoustic panels are ideal for spaces with high reverberation time such as gymnasium or stadium. Our geometric panels and fabric ceiling panels are designed to improve sound quality and provide decorative effects in the room.
Hanging Acoustical Panels Usage
Unlike sound absorbing wall hangings or soundproof wall hangings, hanging acoustical panels can be installed in gymnasiums, big halls, broadcasting studios, recording studios, schools stadiums, offices, restaurants, hotels, chapels or any other facilities that require noise control.
Acoustic Hanging Panels Manufacturing
The standard panel structure is stretched from the surface material to the edge-stable dimensional stable rigid glass fiber board core and the front side of the frame, or attached to the edge and back of the frame, and meets the following requirements:
Finishing material: fiberglass fabric
Nominal density: 96 Kg / m3
Frame: resin frame or metal frame
Panel thickness: 50mm, 100mm
Panel width: 600mm, 1200mm or customized
Panel height: 600mm, 1200mm, 1800mm, 2400mm
Edge details: square or customized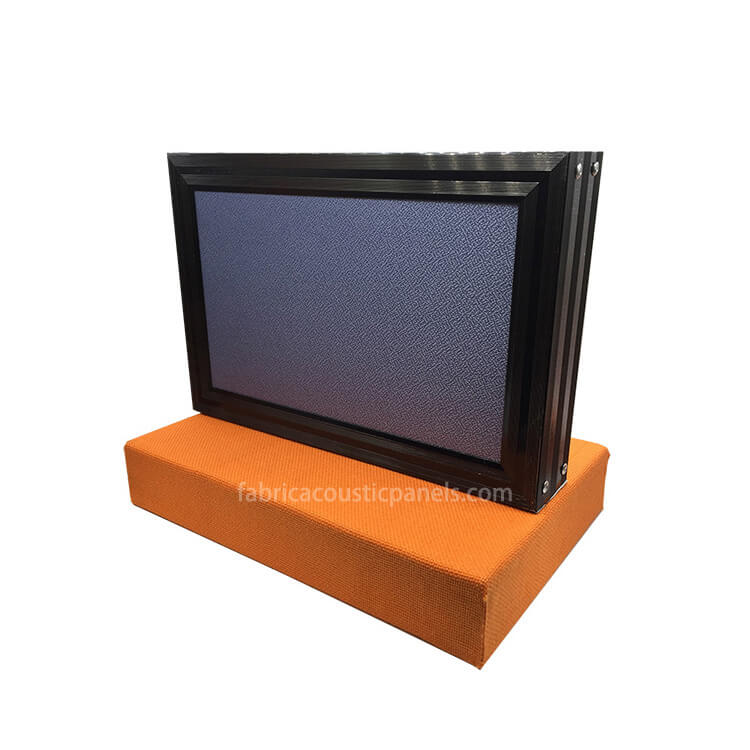 Fire performance
The hanging acoustic panels ceiling we use provides good fireproof performance.
Cleaning and maintenance
The hanging acoustical panels and fabric wrapped acoustical wall panels are designed for long-term use in a built environment and require minimal maintenance. However, the panel can be vacuum cleaned according to customer requirements. In addition, a damp cloth/wipe can be used to clean any marks.