Eco friendly Sound Absorbers for Walls
Sound absorbers are available in two different categories, one is wall sound absorber and the other is ceiling sound absorber. They are have similar structure but not exactly the same.  Sound absorbers for walls are a green design, environmentally friendly fabric wrapped acoustic absorber panels. Panels are manufactured using polyester wool or melamine foam and wrapped in 100% polyester fabric. The application of sound absorber panels includes office, churches, schools, airport, classroom acoustic boards for walls, church acoustics, home and home theater acoustics, retail industry, university, and so on.
Sound Absorbers Specifications.
Size: 600x600mm, 600x1200mm
Panels can have depths of 25mm, 50mm
Core material: polyester wool or melamine foam
Frame: Eco friendly MDF frame
Noise reduction factor (NRC) is 0.8
Handmade in China
Custom Specifications: The fabric sound absorbers for walls offer up to 1200x2400mm custom sizes. We will meet your requirements of panel size, shape and fabric. Please choose from our color chart.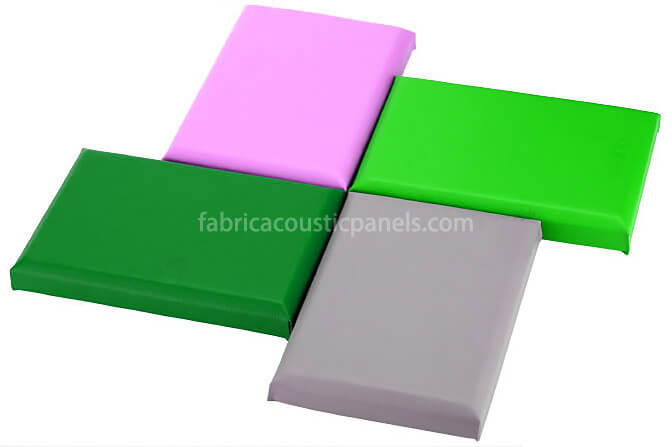 Absorption Coefficient
1/3 octave center frequency, Hz
Core materials 125 250 500 1000 2000 4000 NRC
Fiberglass 0.27 0.60 1.07 1.11 1.09 1.15 1.00
Installation for Fabric Wall Sound Absorbers
Method 1: wood batten, Nails and glue
Method 2: aluminum clips, screws
About Solid Wood Back on Noise Absorbers for Walls
Our standard sound acoustic absorbers are resin frame without wood back. In the acoustics, the solid back on the wall and the panel is roughly the same, not back to the wall. In either case, the sound enters the front of the panel, is reflected by the back and / or walls.
Besides, if you want to absorb the bass and want to have an air gap behind the panel, then the back is not desirable. This air gap allows the sound to pass through the fabric wrapped panels, has a certain distance in the air gap, reflected from the wall, passes through the air gap and passes through the panel. The distance helps to absorb low frequencies (because they have long wavelengths).
However, we can also customize the back with wood back. 3mm or 6mm wood back provides strength for the panel, and can hang the sound absorber material on the wall, or install hardware such as hinges, hooks or other hangers.