Fabric Sound Absorbing Baffles
Reducing the echo in the space can also provide beautiful colors. The fabric design acoustic baffles we manufacture can be wrapped in different fabrics, can be made into special shapes and sizes, and can be installed in any way you want. Together we can design more than just acoustic solutions.
Your project may need more than just fabric sound absorbing baffles. If we put the acoustic baffle suspension board in the school gymnasium, we better plan someone to throw basketballs into the basketball court! If you are really concerned about the noise in the office next door, conventional hanging acoustic baffles will not work and you must cover the entire wall. Listening rooms, home theaters and recording studios need baffles acoustic treatment panels and reflectors to make the acoustics just right. Let's talk about everything you want, acoustic baffle material can provide many acoustic and practical benefits.
Fabric Sound Absorbing Baffles Feature
Easily integrate sockets, switches and lighting
All work is done on site.
Perfect tolerances, suitable for all built environments
No sagging, gaps or mismatch of fabric
Almost any fabric can be used.
Size 600x1200mm, 600x600mm, etc.
Thickness 50mm vertical acoustic baffles
Any depth can be completed or multiple panel depths can be applied.
Multiple core materials for  fabric acoustical panels can also be used.
The edge of the finished product is close to the wall.
The fabric can be replaced separately.
The fabric is stretchable and non-sticky.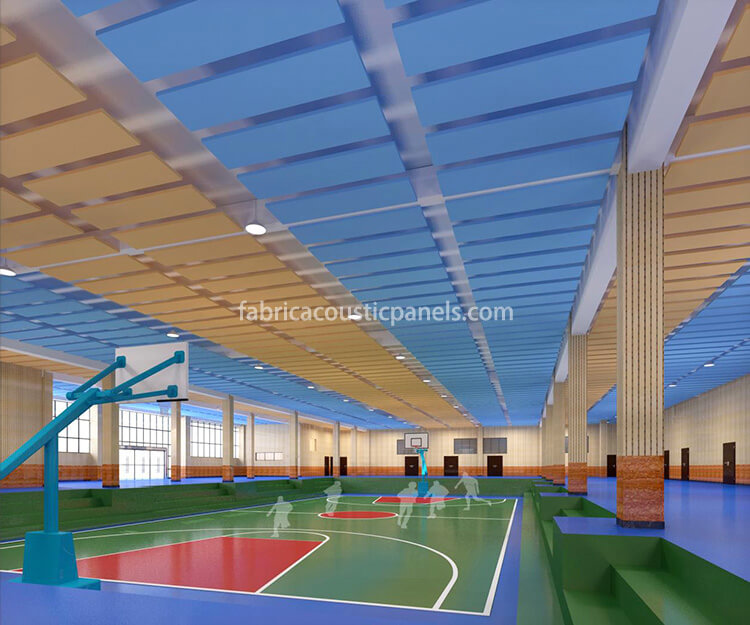 The sound absorbing baffles fabric panel is made of high-quality fiberglass covered with fireproof fabric. The fabric on the surface is available in different types and colors. Fabric sound absorbing baffles combine high-quality acoustic materials and artistic designs, and the fabric design acoustic baffles can be made into different shapes. The sound absorption coefficient is high, and it has a better sound absorption effect for low, medium and high frequency noise. At the same time, it has the characteristics of flame retardant, fireproof, no dust pollution, strong decoration and convenient installation.
Installation Method
We will make the installation of acoustic baffles as simple as possible. Through our plan, many customers can easily perform the installation, thus saving a lot of money. Before placing an order, we will ask you the right questions about your room to understand the simplest installation method and hardware.